Domain

Marketing Technology (MarTech)

When I worked on it

2015—2021

Companies

Technology and vendors

Custom MarTech: Data Lakes, Data Warehouses, Batch & Real-Time, Spark, Kafka, Kafka Streams, Akka, RocksDB, MLeap, Airflow, NiFi
Email/Push: in-house platforms, Braze
Ads: in-house ad servers, Google Ads, Facebook Ads
Attribution: in-house, Branch, AppsFlyer
Analytics: Amplitude, Adobe
Promotions: ibotta
Mobile geo targeting: in-house, Radar
CDP: in-house, Segment, mParticle, RFPs w/ Tealium, Lytics
Data: Experian, LiveRamp, PlaceIQ
Expertise
In general: email and push marketing, display advertising, retargeting, paid social, content personalization, ad serving, in-app notifications, marketing analytics and experimentation, cross-channel optimization, landing pages, funnel optimization
Data and Privacy: identity resolution, cookies, user profiles, customer data platforms (see CDP portfolio), consent, data sharing, privacy (see privacy portfolio)
Email/push optimization: Subject, text, and send time optimization.
Ad serving: Led real-time ad server product driving upsell/cross-sell and engagement with self-service marketer interface for Intuit QuickBooks.
Ad retargeting: Enabled real-time ad retargeting at Walmart, eliminating a previous 3 day wait for data pipelines and batch jobs.
Marketing AI/ML: Built AI/ML capabilities and APIs at both Walmart and Intuit to enable marketing, advertising, and personalization customers to easily run ML models against customer data assets.
Vendor Contracts & Relationships: Drove multiple 7-figure vendor agreements to better pricing and terms at Walmart and Intuit. Experienced technically-minded RFI/RFP writer.
---
Walmart Marketing Technology
From 2018-2020 as a Director at Walmart in Marketing Technology, I led 7 PMs and 60+ cross-functional partners to build and drive cross-company value from a Customer Data Platform (CDP). We exceeded goals in adding $xxxM in incremental annual revenue and saving $yM through customer identity, profiling, and ML solutions applied across marketing, advertising, personalization, fraud, and privacy.
I owned two stacks: (1) a custom-built "Walmart CDP" augmented with 3rd-party data, and (2) a vendor stack to support mobile app marketing (with eventual unification plans).
The Walmart CDP effort included a complex identity graph created with deterministic and probabilistic approaches, batch and real-time processing/ML, and data from Experian, LiveRamp, and PlaceIQ. See CDP portfolio for more details. Example marketing channel projects:

Audience segmentation for email/push, display advertising, and paid social advertising
Real-time retail ad retargeting (previously a 3-day process)
Feedback:
"Brought first-time clarity and alignment to complex and strategically essential area of customer data. Incisive in analysis and judgment across his purview and beyond. Advocates for both external and internal customer lenses. Re-tooled planning process to get on top of 100+ project backlog and better manage relationships. Hired 'raise the bar' PMs. Regularly contributes insight to improve product management craft." –Manager, VP of MarTech Product, Walmart
---
QuickBooks Marketing Technology
From 2017-2018, as a Group PM at Intuit in MarTech, I led 7 PMs to drive upper funnel marketing platform and engagement activities for Intuit QuickBooks. My team contributed $xxxM/yr in revenue through platforms and user interfaces: behavioral tracking, user identity and interest profiles, landing pages, sign-up, in-product personalization, notifications, ad serving, and content management (CMS). I led a deep RFI among Customer Data Platform (CDP) vendors (see CDP portfolio). I was relationship owner for Segment and Amplitude, and helped drive contract negotiations with Segment, Amplitude, and Adobe Analytics.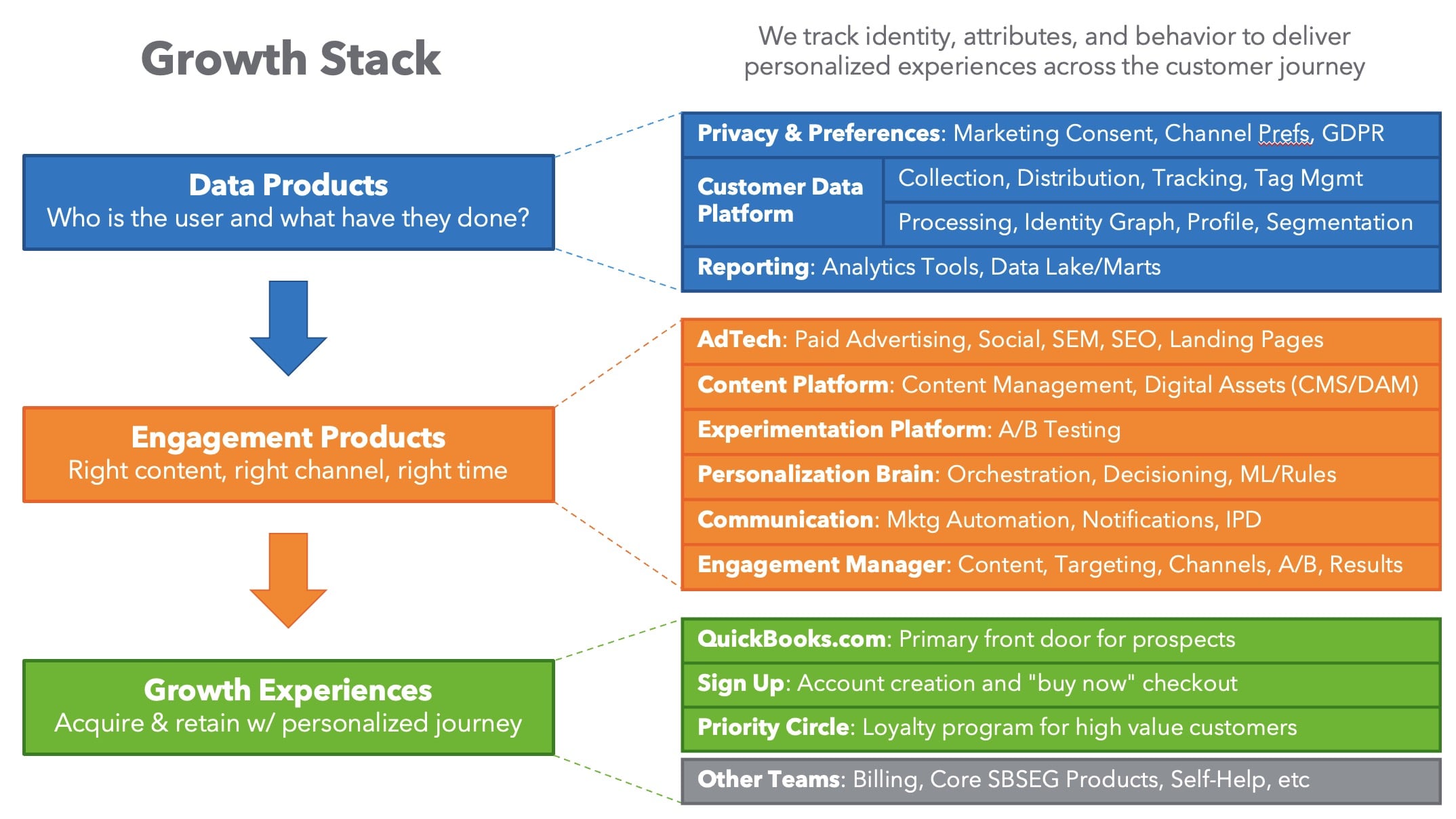 ---
Feedback:
"Dave, want to take a minute to recognize the massive contributions you've made to evaluation of a broad portion of the MarTech portfolio for Intuit. Your boundaryless approach was a major enabler for us on the TurboTax side and I am personally grateful for your rigorous approach and strong partnership, even for things that were not in the scope of what you originally set out to do. –Director of MarTech Product Management, TurboTax
"You've run the most impressive RFI process I have yet to witness." –Segment Co-Founder (Vendor)
"You are, by far, the most well-informed person on the CDP space that we have come across at a brand." –Tealium Strategic Accounts Manager (Vendor)
---
Talks
I was invited to speak at data and analytics events held by Segment (CDP vendor) and Amplitude (Analytics vendor).
---
QuickBooks Mobile Apps
From 2014-2017, as a Senior PM at Intuit, I led the transition of QuickBooks mobile apps to being a substantial acquisition vehicle, aided by growth tactics, marketing technology, and experimentation.
In concert with a strong partnership with our mobile marketing team, I led instrumentation of our apps for data orchestration (Segment), improved product analytics (Amplitude), marketing automation (Braze), and install attribution (Branch). I partnered with marketing on GTM, including messaging, App Store optimization, and several Apple partnership initiatives. Along with feature changes to appeal to mobile-first users, these efforts led QuickBooks small business accounting, banking, payments, and expense tracking app to 330% growth in paying users (300K+).